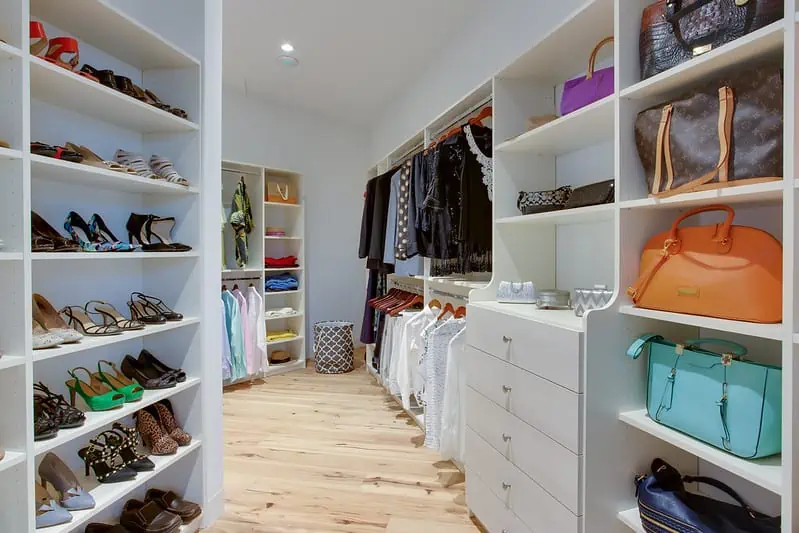 Designing a Custom Wardrobe
When designing a custom wardrobe, there are several key factors to consider:
Custom Wardrobe Height
The total height of the wardrobe should suit the height of the people using it. Standard wardrobe heights range from floor to ceiling, but you can customize the height based on your needs. Consider the items being stored and how high or low you need to reach for them.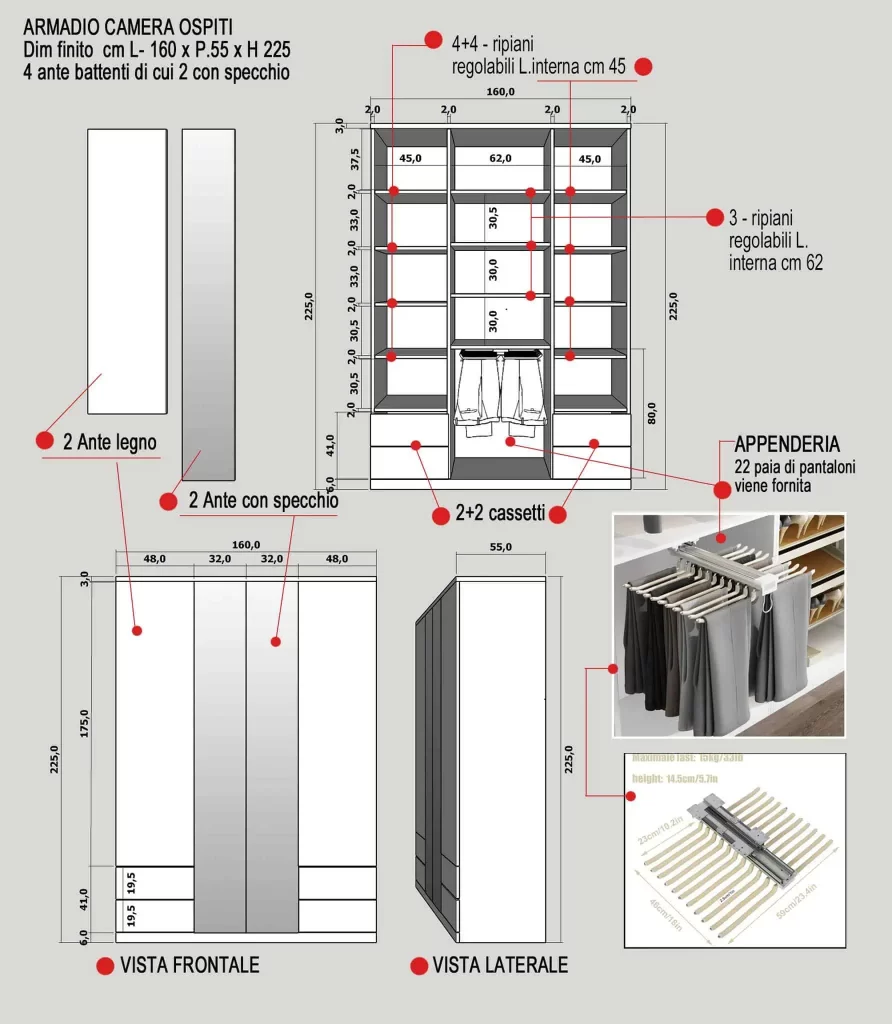 Custom Wardrobe Depth
The depth of the wardrobe interior should allow enough room for hanging clothing as well as shelves, drawers, and other storage elements. Standard depths range from about 20-24 inches (50-60 cm). Make sure to measure the depths of the items being stored.
Custom Wardrobe Width
Measure the width of the space where the wardrobe will be installed. The wardrobe width should maximize the space but still allow room for openings and closed doors. Common wardrobe widths range from just a couple feet for a reach-in closet to 8 feet or more for a walk-in closet.
Custom Wardrobe Interior organization
Plan how to best use the interior space with shelves, drawers, hanging rods, and other storage elements. Measure clothing and accessories to determine ideal heights and widths for shelves and hanging rods. Consider easy access and visibility when placing drawers and hanging bars.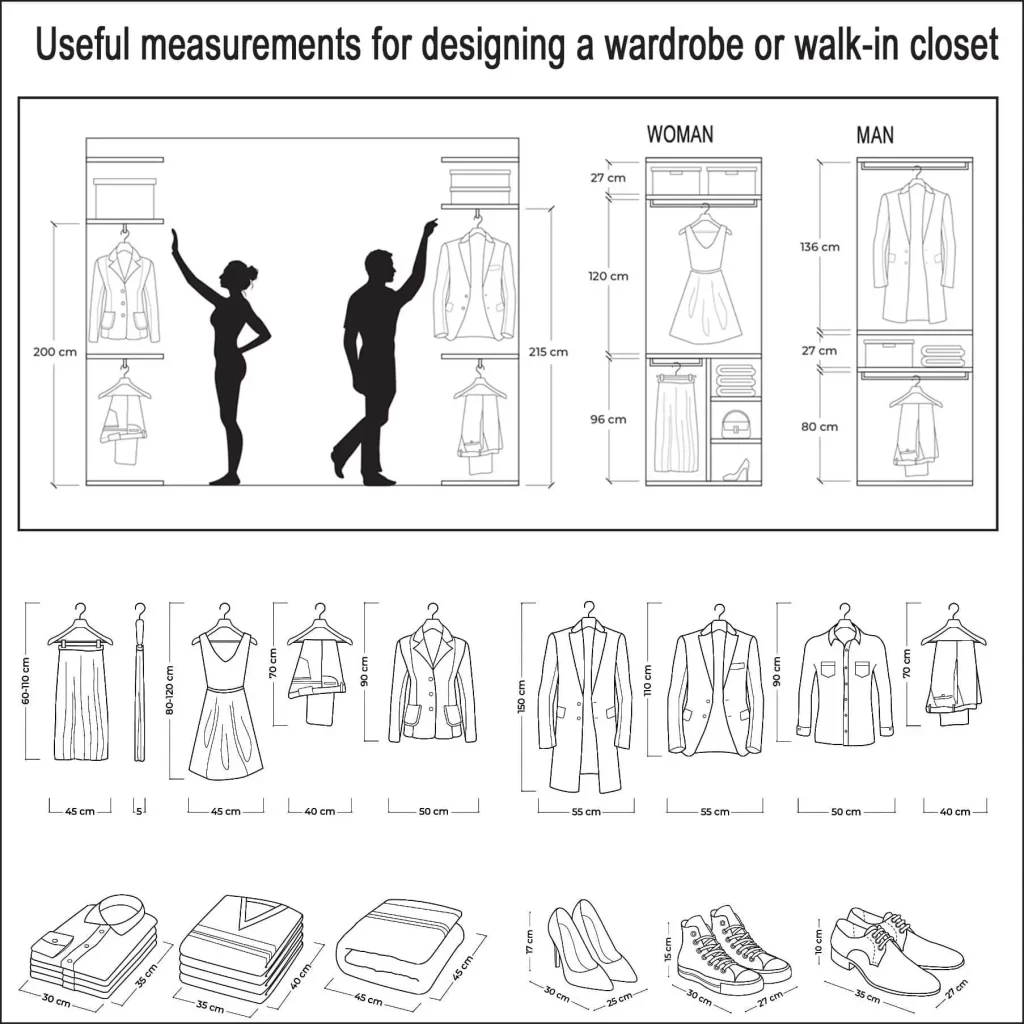 Custom Wardrobe Materials
Choose materials that are durable and suitable for your lifestyle. Hardwoods like oak and maple are attractive but can dent. Laminates and melamines are more resistant to wear. Consider easy-glide drawers, cushioned hangers, and other accessories to protect clothing.
Custom Wardrobe Lighting
Incorporate lighting at the top and inside the wardrobe so contents are visible. Door-activated switches automatically turn lights on and off when doors open. Battery-powered motion lights illuminate when you're accessing the space.
Custom Wardrobe Ventilation
Allow for air circulation inside with louvre doors, grilles along the top or sides, gaps between shelving, and other design elements. Proper ventilation prevents musty odors.
Customization options like height-adjustable shelves and rods allow flexibility to modify storage as needs change. Careful planning of wardrobe interior systems helps maximize the available space
Crafting the Perfect Custom Closet
Building Your Dream Wardrobe from Scratch
Custom Wardrobes: Making the Most of Your Storage Space
Designing a Wardrobe That Fits Your Life
Personalize Your Storage with a Custom Wardrobe
Maximizing Your Storage with a Bespoke Wardrobe
How to Design the Ultimate Custom Walk-in Closet
Creating Customized Wardrobes to Suit Your Needs
Wardrobe Design: Tips for Making It Yours
Storage That Fits: A Guide to Planning Custom Wardrobes