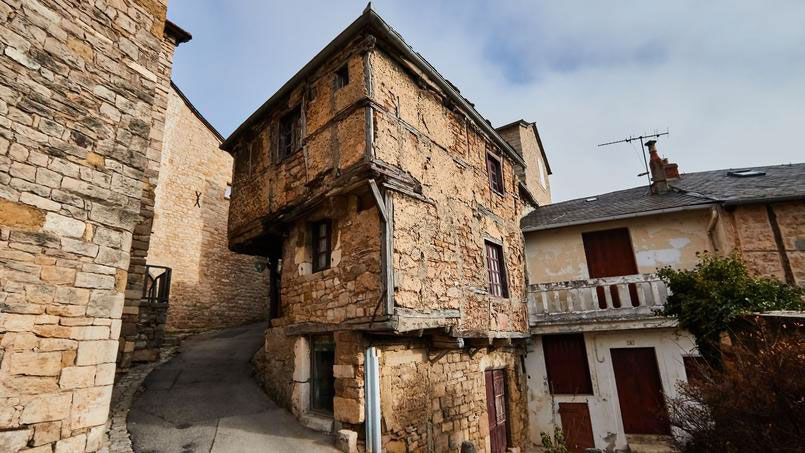 It's found In Aveyron, it's 700 years old, it was built in the 13th century and belonged to a Jeanne.
The ground floor is a little smaller than the upstairs because in those times you only paid taxes on occupied land, so everyone built like this, ′′ cheating "!
The house tells us Jeanne was relatively rich, because she's built from stone.
All it took was for an American to publish a photo on the Internet and the whole world fell in love with the oldest house in the Aveyron.
This house, called "Jeanne's House", located at 10, rue de la rue Belvezet, has been seen, in two days, nearly 2 million times on the Imgur. image hosting site. A feat when we know that a post rarely exceeds thousands of "likes". The picture was taken by a tourist invited to a Franco-American wedding.
Small mistake of the author of the photo, the house does not date from the 13th century but from the 15th century.
According to Le Figaro "some people are surprised by the corbelled structure which is getting wider and wider until it was explained to them that at the time, the French already wanted to pay as little tax as possible and that they were relying on the floor surface of the building… Moviegoers see it as a set from the Game of Thrones series or the home of the Weasley family in Harry Potter. Finally, many dream of discovering the interior or even spending a night there…".
Faced with this new notoriety, the municipality has just opened a club of patrons in order to finance the work planned for September. On the programme: changing the beams, reassembling the walls and restoring the roof. The generosity of Internet users will undoubtedly be a significant boost.
The "Maison de Jeanne", named after its last owner, a painter, is a two-storey house, with half-timbered walls, partly made of cob, with its kitchen or "cantou" that has remained intact and its superb vaulted cellar that has preserved its wooden feed troughs, proving that in the Middle Ages, the inhabitants of the towns fed their animals in the heart of the houses before letting them wander through the town's alleyways. In July and August, it hosts medieval events and opens its doors on this occasion. The place, with a capacity of twenty people, is open to the public for free or guided visits.